Rimsulfuron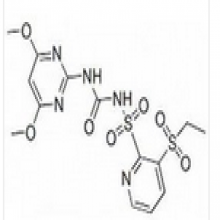 CAS: 122931-48-0
Molecular Formula: C14H17N5O7S2
Molecular Weight: 431.44
Product description:Sulfonylurea herbicide, branched chain amino acid synthesis inhibitor, selective herbicide after bud. Used to control annual or perennial gramineae and broad-leaved weeds in corn, such as Canada thistle, iron wil, cyperus rotundus, dock folic acid, Arabian sorghum, wild oats, hemostatic digitaria, weed, lolium multiflorum, abutilon, amaranthus retroflexus, cleavers, corn poppy, chickweed. After the annual weeds sprout early use is a plus, recommended dosage of active ingredients for 5 ~ 15 g/hm. Used in corn and potato weeding; The most safe to corn, for spring maize. Sulfone its cycling in the corn has a half-life of 6 h, with the recommended dose of 2 ~ 4 times, corn is very safe. In the corn field according to the recommended dose (A.I.) 5 ~ 15 g/hm2 & # 91; 0.33 ~ 1.09 per acre (A.I.) & # 93; . When using, had no adverse effect on the crop, corn, sweet corn, explosive sticky corn and should not be used in the seed production.
Send enquiry online

After send online enquiry, we will reply you as soon as possible, if not get any response on time please contact us by Tel or Email.
1. Email: sales@raw-pharmaceutical-materials.com
2. Tel: +86 592 5365887
3. WhatsApp: +86 189 6515 7632
4. Send enquiry online: